Drawings on the nails with a brush - today is the most convenient and affordable art of decorating nail plates, which even the most inexperienced woman of fashion can master. For novice girls in the world of manicure, the creation of drawings from scratch is difficult, since it requires some experience and knowledge. Some pioneers are inclined to believe that mastery of artistic painting of nails is subject only to professionals in their field.
Regular classes for beginners will allow the beginning manicurist to master and eventually improve the basics of nail painting, which will bring it closer to the mastery of a real guru of art painting. Without a doubt, at first the drawings on the nails with brushes at home will be primitive and simple. And even if you have "the first pancakes are lumpy," you should not despair ahead of time and give up.
It will take quite a bit of time - and your hand will become more confident, the design will acquire complex curls, and if you still connect your imagination, turn to your own ingenuity - then the glory of the nail master will be provided to you! So, where do you start to do the drawings on the nails with a brush?
Preparing for "drawing"
Before you learn the basics of art painting on nails at home, you need to devote a lot of time to the preparation stage:
Draw the pattern should be in a comfortable environment, it is better alone, so as not to be distracted by external stimuli, and also not to find an outsider caretaker who will criticize and comment on your design and the correctness of its implementation.
Get a sufficient amount of nail polish remover, because the first time you will not be able to get a perfect drawing.
For simplicity and convenience of work, initially choose the pattern you like, print out the instructions for it, or open the image on your phone / tablet.
Prepare your nails in order: cut the cuticle, remove burrs, give the nails the desired shape.
Prepare all necessary accessories and tools for the procedure in advance.
Combat arsenal for working on nails
To perform the "jewelry work" on the nails, you should stock up on a certain set of materials, the most important and difficult of which are brushes. They allow you to embody the most unique compositions on the nail plates. When choosing brushes, give preference to a natural rabbit or squirrel pile. To serve a brush for you for a long time, after work, wash it in warm water, dry it thoroughly and put it in a case.
Varieties of brushes:
Dot brush - designed for fine rendering of small parts.
Liner brush - allows you to draw smooth and long lines in one stroke.
Flat brush - designed for drawing large, wide patterns, as well as for applying glitter, powder and sand.
Fan brush - is responsible for mixing colors, creating a background. She can make a painting in an abstract or landscape style.
Petal brush - used in drawing on the technique of Chinese painting.
Dagger-shaped brush - allows you to sketch empty elements, draws individual parts.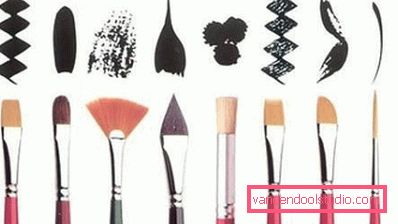 In addition to brushes, nail design also uses:
Sewing needle, toothpick - allows you to create small flowers, patterns at home.
Scotch - to create images with a geometric shape.
Sponge - useful for shading pigments.
The stick with a beveled cut is used as a cuticle removal, as well as for placing beads or stones on the nail. She can independently change the location of the foil, a piece of cloth or pictures.
Dots - a tool with balls at the ends is necessary for drawing dots, ornaments, curls, mixing the color palette.
Materials for painting marigolds:
Acrylic paints.
Nail polishes.
Decor (rhinestones, sparkles, sequins, bouillons, beads, mica, sand, foil, velvet and others).
For convenience, we present to your attention a step-by-step execution scheme for images on the nails using a brush. It does not take you much time, about 40 minutes. And when you put your hand in - you can make yourself a manicure in just 15 minutes.
Lecture 1. "Yin and Yang"
It will take: a base coat, light and dark varnishes, top coat.
Instruction:
Apply a base coat, wait for it to dry.
With the help of white lacquer, divide the nail into 2 parts.
Using a light varnish, paint over the left half of the marigold, then darkly cover the right.
While they dry, brush on 2-3 drops of varnish of the opposite color. Those. on a light background - dark drops and vice versa.
Using a brush to make a divorce.
After complete drying - fix the top cover.
Lecture 2. "Rainbow"
It will take: a base coat, 3-4 multi-colored varnish, silver lacquer, fixing agent.
Phased scheme:
After applying the top coat on the nails, cover them with any varnish at a distance of 2 mm from the cuticle, wait for it to dry.
Apply another color at a distance of 5 mm., And so do with all the other shades.
Take a thin brush and draw silver lines in the place of the docking of shades.
Apply fixative.
Lecture 3. "Chamomile Glade"
It will take: base, varnishes green, white and gold, fixer.
Step by step scheme:
Apply to yourself on the basis of nail polish.
Cover the nail green, wait until it dries.
Brush put 3-4 points in white - these are daisy petals.
Gold color draw the middle of the flower.
Finish the procedure with a fixative polish.
Lecture 4. "For lovers"
It will take: a basic base, 4 contrasting varnish (can be less), lacquer-fixer.
Stages of implementation:
After spreading the base coat, apply a background color on the nails, let it dry.
Put 5 dots in other colors and draw lines through the middle of the drops with a brush to make them look like hearts.
Secure the result with a fixer.
Creating art on the nails is a very exciting process that any girl can do step by step. Create and be inspired by our work.
Video: Nail brushes and their use