Every girl who graduates from school will find it helpful to know what makeup should be like at the 2015 graduation. Without a perfectly matched and executed make-up, the image will be incomplete and you probably know this, and therefore proceed to the selection of your future make-up. We will choose makeup for the prom, which is best suited for you, focusing on the color of your eyes, facial features and prom dress. Let's get started!
Basic requirements for graduate makeup
School makeup at the prom in 2015 can be performed in various techniques and colors, we will talk about this a little later. Now we are talking about the most important requirements for makeup, and they are:
Make up must be performed with high-quality decorative cosmetics. You should not experiment and on the eve of an important event buy a new lipstick or gloss. It is better to use cosmetics, the reaction of your skin to which you will be known for sure. After all, nothing that does not spoil the mood, like a sudden allergic rash from poor quality tonals.
Make-up must be persistent. This is one of the most important criteria for its selection. Choose the right makeup that will allow you to meet the dawn in the same impeccable form, in which you appeared at the graduation party.
Makeup and hairstyle at the graduation party should be chosen in the same style and correspond to the general concept of the image. If you choose a strict dress in a dark-colored floor, the hairstyle should be classic, for example, a seashell or curls, and in make-up should be used basic colors, such as black, gray, brown, beige. If you choose a dress of pastel colors, make up is better to perform with pure colors, for example, red, blue, purple. Do not select everything in one color, otherwise you may look at least not fashionable, and maybe even ridiculous.
Remember the main rule of any make-up: the emphasis should be placed either on the lips or on the eyes. That is, if you decide to perform bright eye makeup on the graduation party, it is better to cover your lips with glitter or lipstick of nude colors.
A few inspirational photos, maybe on one of them make-up for the gala evening of your dreams.
Fashion trends make up for the school prom 2015
Now we will consider the most current make-up application techniques that recommend the best makeup artists to fashionistas:
Natural make up nude.
Futuristic minimalism.
Smokey Ice
Matte textures.
Bright lips.
Natural nude make up
In this technique, you can perform a beautiful make-up at the graduation party, which will most successfully emphasize your young beauty and harmoniously complement any image. Such a school make-up for prom will be gentle and easy. It is performed step by step like this:
Create the perfect tone. Apply a primer or foundation under the makeup, it will make the result more resistant and provide care for your skin. Hide the flaws with the corrector. We apply a tonal remedy that is correctly chosen exactly under the shade of your skin. Look carefully for the borders and color transitions between the face and neck. Apply loose powder. Blush nude make-up assumes a minimal amount of light translucent hues.
Eyebrows Lightly tint eyebrows with colored gel or special shadows, do not use a pencil, so as not to make eyebrows excessively bright. In nude make-up, the edge should look natural.
Eyes. Only natural shades of shadow, pencil, liner and mascara. The best solution: light brown shadow without nacre, black arrow, black mascara.
Sponges. Prefer natural beige shades or faded berry lipstick colors. You can use a transparent shine.
Nude makeup will be relevant as makeup for the final grade 9, as this is the most natural option.
Futuristic minimalism
Today, fashion make-up is simplicity and minimalism, both with regard to the selection of cosmetics, and in its quantity on the face. Makeup artists offer a futuristic make up, made with shiny textures of tonal resources.
The main focus of the make-up on the eyes is that bright arrows of neon colors are possible, moreover, both on the upper and lower eyelids, the use of metallic shades applied to the entire moving eyelid. But remember, this make up can be chosen only if your entire image has such an orientation. It is suitable for the most creative and extraordinary young ladies who are used to being the center of attention.
Smokey Ice as a timeless classic
If you are afraid to make miscalculations with a choice, stop at the Smoky-ice. In this technique, you get a universal eye makeup for the prom, which looks equally good in combination with a classic long dress, and with a mini length, with an outfit in soothing colors and a bright cocktail dress.
For its execution, select 3 shades of shadows: the main color, its light and dark shades. The most successful options for smoky eyes:
Shades of brown, beige and coffee color, black pencil, black ink.
Shadows of a light-gray, gray and black shade, black ink and the liner.
If you chose this technique for make-up eyes, lips should be painted with calm neutral shades of lipstick.
Matte textures for make up
One of the most trending today is considered to be a matte make up. To perform it you need to buy decorative cosmetics without a hint of gloss and shine. Shades can be different, there are no certain rules, but the main thing is that the result harmoniously complements your entire festive image. The main thing in matte make-up is the quality of cosmetics, especially for tonal means and powder. To keep the skin matte until the very end of the celebration, bring matting facial wipes with you.
Bright lips in graduation make up
Bright sponges are an unconditional trend. Perfectly look juicy lips in combination with a dress of dark colors: blue, black, emerald green. You should not choose a bright red lipstick, but the cherry and fuchsia can be safely said "Yes!" Remember that bright lips are not the best option for girls with dark skin, as they will make your face dimmer.
We select a solemn make up under the color of the eyes
Now you will learn about the most successful color combinations for each shade of your eyes and will be able to choose an option for yourself.
Make up for school graduation for brown eyes
Choosing makeup for prom for brown eyes, you need to take into account the natural brightness of the iris. To make the eyes expressive will be enough a couple of strokes, although this does not mean that brown-eyed beauties can not perform Smoky-ice.
Makeup for prom for brown eyes can be performed in the following shades: olive, brown, sand, silver, gold, fuchsia. Avoid orange color.
Blue Eyes Graduation Makeup
When performing makeup on the prom for blue eyes, it is worth remembering that the end result should be light, soft, natural. It is best to cope with this task pale pink, sand and coffee shades. Makeup at the prom for blue eyes can be supplemented with a neat arrow, and the shade of the liner does not necessarily have to be black.
Graduation Makeup for Gray Eyes
Make-up on a graduation for gray eyes should be performed preferably with cold colors of cosmetics, since the gray of the iris itself is also cold. When choosing makeup for a graduation for gray eyes, notice white, linen, chocolate, blue, ivory. Gray eyes will help to highlight the black arrow, sponges can be painted with bright lipstick.
Green Eye Prom Makeup
When doing makeup for a graduation for green eyes, take a look at classic shades and their combination: black, brown, gray, beige. Make-up at the prom for green eyes can be created in any technique, as such, there are no restrictions. But on the lips, experts recommend using shades of burgundy, terracotta and orange in make-up.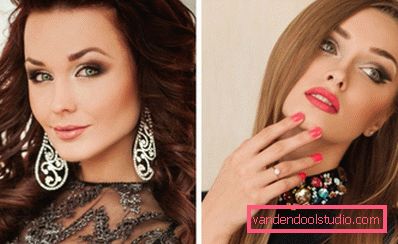 Children's make up for young graduates
Make-up for the girl at the prom in 2015 should be limited to the selection of skin cleanser and moisturizing baby face cream. Children's makeup for prom should be as natural and light as possible. The youngest women of fashion can take advantage of special children's cosmetics, a series of which almost every major manufacturer has. It can be light transparent gloss and weightless blush.
Video: Fashionable in 2015 make up for a celebration