Girls with bangs before the wedding should be especially anxious to treat their image. Wedding hairstyles with bangs you need to choose carefully, based on the shape of the face, a veil with decorations and the image as a whole.
Current: Wedding hairstyles 2019 for all hair types.
Important points to create a wedding hairstyle with bangs
one. Cutting the bang is not recommended immediately before the wedding, as it often turns out to be shorter than we would like, it is better to perform this procedure in two to three weeks and if the bang turns out to be shorter, then during this time it will grow a little.
2. If in ordinary life you wear straight bangs, and for a wedding look you want to make bangs to the side, then you need to start combing it in a necessary position in a couple of days, then it will be more obedient.
3. Before choosing a wedding hairstyle with bangs, it is best to consult with a stylist and make a trial version of the hairstyle.
4. Think over the image and to, your hair should be in harmony with the dress, makeup and accessories.
We select bangs to shape the face
Oval face
Brides with an oval face can use any type of bang, it can be straight bangs, bangs to the side and even bangs of different lengths. To create a gentle image, you should choose oblique bangs or bangs, combed to the side.
Round face
Girls with round face bangs are not recommended, as it will only emphasize the shape of the face, if you want to visually narrow the face, then it is best to leave strands near the face, or choose a long version of the bangs on the side.
Triangular face
With this type of face, direct bangs are not recommended, the best option is oblique bangs, you should not make the bangs short. The same recommendations are valid for girls with a rectangular face.
Wedding hairstyles with straight bangs
Wedding hairstyle with straight bangs Looks stylish and fashionable. This bang does not go to everyone, but if you are one of those lucky people for whom straight bangs are an ideal image, then you can safely experiment with a hairstyle.
Please note that on the day of the celebration such a bang should look perfect, it should be flat and smooth. To do this, your stylist should try and lay it down so that it "survived" all day.
Straight bangs can be combined with loose and collected hair, but from hairstyles with braids will most likely have to be abandoned, as this will overload the hairstyle. Also, do not make the bangs too thick, it can visually weight the face, the bangs should cover the forehead, but not be very thick.
If you choose loose hair, the best option would be wavy and curly hair, it may seem strange, because our bangs will remain straight, but in fact with such a hairstyle you will look like a princess! Dress it is better to choose a calm and restrained without lace and frills.
If you want to collect hair, the smooth classic hairstyle of a cockleshell will emphasize your tenderness and elegance.
Wedding hairstyle with oblique bangs
Owners of oblique bangs were lucky, because such bangs can decorate any hairstyle. Wedding hairstyles with oblique bangs may look playful or, on the contrary, romantic, depending on which style you choose in a hairstyle.
With oblique bangs look great hairstyles with a fleece, when part of the hair is combed back, and part remains loose, this hairstyle will give the image lightness and freshness.
Hair can be collected in a high hairstyle and decorated with various accessories, such as flowers, ribbon or elegant rim.
You can also experiment with different weaves, for example, the openwork braid on one side will be perfectly combined with oblique bangs.
Wedding hairstyle with bangs and diadem
The tiara is perfect for a wedding hairstyle with bangs, so if you dreamed of decorating your hair with this accessory, the presence of a bang gives you a guarantee that it will turn out beautiful.
Usually the tiara is placed on the spot where the fringe begins, it can be quite small and elegant, or vice versa luxurious with the presence of rhinestones. In this form of bangs fit absolutely any. The tiara is in harmony with straight, oblique, short and long bangs.
Such an accessory will give the image fabulousness, and you will look like a beautiful Cinderella, who has turned into a princess. A dress with a straight strapless corset will suit this look.
If you prefer loose hair, it is best to make a haircut with curls, you may have a little fleece.
When choosing a hairstyle with collected hair is best to leave a few strands in the face.
Wedding hairstyles with long bangs
Owners of long bangs can decide what they want a wedding hairstyle with bangs or without, as long bangs can be easily hidden in the hair.
If you still decide to leave the bang, then you can comb it on its side and fasten it with a beautiful ornament or ribbon so that it does not fall on your face.
Another good wedding hairstyle with a long bang is to split the bang into equal parts and leave to frame the face. But this hairstyle is suitable only for owners of an oval face.
Wedding hairstyles with bangs and veils
A veil is a traditional decoration for a wedding hairstyle, but which veil is suitable for a hairstyle with bangs?
If you have a complicated hairstyle with straight bangs, then it is best to choose a simple non-multi-layered veil, but if you decide to do a rather restrained hairstyle with the collected hair, then you can choose a fur veil.
In the case of oblique bangs, the veil can be used to select almost any, as long as it matches the style of the dress and the image as a whole. A luxurious simple veil will complement the wedding hairstyle with a slanting bang.
Also for the wedding hairstyle with bangs and with a veil will suit various jewelry and hair accessories, it can be a tiara, brooches, hairpins, floral jewelry.
Now you are convinced that wedding hairstyles with bangs can be diverse and beautiful, you just need to find exactly your style, we suggest you to look at another small selection of wedding hairstyles with bangs.
Wedding hairstyles with bangs - photo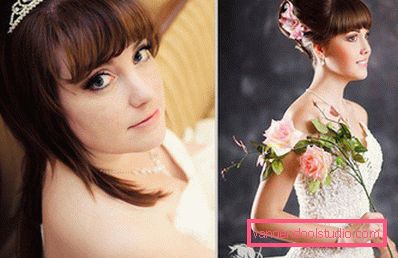 I wish you pick up "his" hairstyle and be the most beautiful bride! Your wedding hair with bangs can add to the comments!