Any haircut, even the most fashionable and progressive, depends not only on fashion trends, client preferences or the skills of a hairdresser, but also on some other factors. The most significant of them - this is a type of person.
If the haircut is done without taking into account this "indicator", then often it looks ridiculous and does not go at all to the client. Such a person will certainly be disappointed and will never visit the master again. However, the client himself, before going to the hairdresser, would do well to study this issue in order not to give the master impracticable tasks and direct his thoughts.
Round face haircuts
, probably the most difficult task, since you need to take into account a lot of features and follow certain rules. Unfortunately, girls and women with this type of face go far from all haircuts and for this reason you need to know how to make the only right choice.
General recommendations when choosing haircuts for round face
Before turning to a more detailed "debriefing", we decided to give general recommendations and tell you exactly what girls with round faces should avoid.
The main task of haircuts for a round face - visually stretch it and bring the oval to the shape. The hairstyle should be directed exactly to that, therefore it is necessary to avoid hairstyles and details that only emphasize the shape of the face, namely:
avoid smooth bangs;
avoid haircuts that require parted hair in the middle;
refuse small curls and permanent;
Do not choose haircuts that suggest additional volume near the ears and listen to the recommendations of the master, if you trust him.
What will suit girls with a round face?
Vertical lines in the hairstyle, which should cover a little cheeks and cheekbones
Asymmetry. This applies to both the haircut in general and bangs. Any types of asymmetrical bangs fit chubby.
Light curls and waves below the level of the chin. Do not make curls from the roots, as visually it will only emphasize the shape of the face.
Volume at the crown or nape. Lightweight bouffant visually stretches the head, bringing it closer to the oval shape.
If you follow these simple rules, a haircut can not only slightly change the shape of the face visually, but also emphasize strengths and make the right accents.
What kind of bangs choose women and girls with a round face?
Bangs are a very important part of any look. It is worth noting that there are people who do not bang at all. All the rest is just to carefully choose a bang that fits the haircut and the image as a whole. Ladies with a round face, choosing a bang, should be guided by the following rules:
one. Categorically with this type of face thick straight bangs do not fit. This bang will make the face even more round and highlight all the flaws. For this reason, it is worth refraining from such a choice, even if the master insists on it or the haircut suggests exactly this option. If you have imagination, you can always choose another, more suitable option.
2 Well suited to chubby beauties all kinds of beveled bangs, which can smoothly go into the main head of hair or do not form with it a single ensemble. A great solution is bangs peekaboo, which closes one eye. Contrary to popular belief, oblique bangs are not only suitable for straight hair, but can become part of curly haircuts, and may require styling, if the hair does not curl from nature.
3 Round face perfectly impressed bangs cascading or asymmetrical. Symmetric lines, on the contrary, are recommended to be avoided, as they only emphasize shortcomings.
There is another very important nuance.
Choosing the length and shape of the bangs, do not forget to pay attention to such detail as the eyebrows. Bangs can significantly change many indicators: the thickness of the eyebrows, their color, shape, etc. Some bangs cover their eyebrows, which can be a good solution if their shape or other parameters leave much to be desired.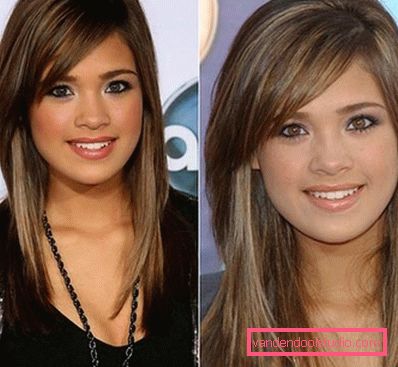 Short haircuts for a round face: which ones are suitable and which ones aren't
There is an opinion that girls and women with this type of face are not impressed with short haircuts. This myth has nothing to do with reality. In fact, a girl with a round face, choosing a haircut, should think about the fact that short haircuts and experiments with a long one suit many people and give a special charm and elegance.
However, really not all short haircuts fit chubby beauties. It is necessary to give preference to haircuts, which have a length slightly below the chin. This haircut can always hide from prying eyes all the "roundness" and unnecessary details.
In addition, experts recommend to give preference to ragged, cascading and a bit careless options. Any haircut with oblique bangs and strands falling on the face will be able to complement the image with new accents and will allow to visually lengthen the shape of the face.
So, we can conclude that if we are talking about haircuts for a round face, then preference should be given to such options as:
1. Bob2. Asymmetrical bob3. Bob-Care4. Pixie
We advise you to pay special attention to a pixie haircut, this hairstyle for a round face has a lot of variations and advantages, for example, if you make a sloppy pixie torn haircut, then this will give you the necessary amount of hair on top. But do not do this haircut "flat", it should not wrap around the head, otherwise it will only emphasize the roundness.
This list should only guide you in the direction of thought, but is not at all complete or mandatory. You can, following the general recommendations, change any hairstyle or haircut so that it emphasizes all your virtues.
Medium length haircuts
The average hair length is almost the best solution for those who have rounded shapes and an oval face. Volumetric haircuts at medium length for chubby ladies will be an excellent solution also if you have a curvaceous shape. This haircut will give the image of boldness, courage and emancipation, which is so lacking at times for women with a non-standard figure.
Which medium length haircuts are perfect for a round face? Among the favorites may be the following:
1. Cascading haircuts with different lengths of strands.. It is better if the shortest strands when performing this type of haircut will be approximately at the level of the cheekbones. Such a haircut, among other things, will give additional volume, which is very important if you have not too thick hair.
2. Bob or four of a kind with lengthening. This haircut implies that the front strands will be much longer than the rest. The front strands can be performed asymmetrically or in the form of torn strands that fall on the cheeks and cheekbones, thereby visually pulling the shape of the face. What, actually, was required.
An elongated bob is perfect for a round face and thin hair, asymmetric bob can also be chosen with this type of hair. The long strands of the face perfectly conceal the volume, and the shape of the face visually looks not at all round and the photo confirms this.
What to avoid?
The main enemy of chubby beauties is small curls. Refrain from such a permanent. If you, for whatever reason, did not like straight and smooth hair, then you can give preference to large curls.
Long hair - options for haircuts and styling for a round face
Owners of long hair, as a rule, are suitable for all the above recommendations, which are common. You should avoid straight lines, horizontal dyeing, fine curls, straight bangs and other small things that visually only make the face even wider.
Perfect haircuts such as:
1. Cascade. On long hair gives volume at the roots and on the crown, which was what we needed. A great option for medium and fairly large hair length.
2. Ladder. This haircut is distinguished by the fact that they cut the hair, mainly, below the oval of the face, without touching the rest of the hair. This ladder is also very good hiding cheeks.
Long hair for a round face is a win-win, so you can give up haircuts and just take care of your hair and occasionally trim the tips for an even and neat cut. The long strands of a person pull it and hide unnecessary roundness.
Smooth waves or careless curls on long hair is an excellent hairstyle for a round face.
Anyway, another important factor when choosing a haircut for a round face is your personal preference. If you do not like a haircut, then the new image will not bring you pleasure.
Haircuts and styling for a round face on the example of celebrities
Many Hollywood stars are owners of a round face, with their example you can easily understand exactly how to properly emphasize your beauty.
One of the most famous owners of a round face - Kirsten Dunst. The actress correctly places accents in her hair, respects the rule of asymmetry. She prefers parting from the side - it allows you to stretch your face. Also, we note that Kirsten chooses oblique bangs on one side, which is also very suitable for this shape of the face.
However, the actress had not very successful images, for example, a fringe on two sides and a parting in the middle only visually emphasized the shape of the face and added a few kilograms. Curls around the ears are also not suitable for chubby girls.
Another bright representative of a round face is Selena Gomez. The girl also has a voluminous head of hair, let's look at examples of which options for haircuts are best suited to her.
No - a bob haircut with curled locks. This type of styling makes the face more round, does not save even a side parting. Curls are permissible with longer hair. Yes - bob haircut with elongated strands at the temples. In this embodiment, even a parting in the middle does not interfere. On the contrary, he makes the face visually narrower, as the curls at the temples cover part of the face and cheeks
No - smooth tail with a parted part. Yes - the tail with a voluminous crown is high, as well as an elongated bang divided into two parts.
No - Haircut squares with rounded lines at the level of the chin. Yes - haircut elongated square with side parting and careless curls.
Yes - long hair with even or oblique parting.
Following the general recommendations that we gave to our readers in this article, you can make any hairstyle or haircut suitable for your oval face. Do not be afraid to experiment and do not focus on the opinions of others, as it is always subjective.
Video - we select a haircut to the round face
In the East, the "moon face beauty" is the most chic compliment, since girls with round face shapes are considered here as the first beauties. The main thing is your perception of yourself, and the rest is subtlety and detail.