The numero hair mask is a wonderful find for women who have long, beautiful hair. After all, every girl in our time dreams of a well-groomed and brilliant head of hair, which perfectly combed and easily fit. This tool is a cream that brings a great, restorative result. Let's take a closer look at how this cosmetic miracle works, and how to use it at home on your own step by step.
Distinctive features of Brelil products
The composition of the Italian numero for hair includes many useful components:
Cetrimonium chloride is an antiseptic element that prevents microorganisms from multiplying and acts as a preservative that prolongs the operation of a cosmetic product;
Myristic alcohol - serves as a humidifier and foaming agent, so you can gently blend numero on the curls, where it will hold perfectly;
Oat extract - moisturizes and nourishes, activates hair growth, while regenerating the damaged structure. It contains a large amount of sulfur, cobalt, iodine, silicon, fluorine, manganese, as well as fats, amino acids and carbohydrates, which perfectly nourish the bulbs and strands themselves. Therefore, the curls look shiny and healthy;
Citric acid is used as a natural antiseptic and affects the functioning of the sebaceous glands, which leads to the normalization of oily hair and controls the production of sebum. It also cleans the strands and whitens them a little and brightens, gives the numero mask a wonderful aroma;
Phenoxyethanol - increases the antiseptic effect of other components of the mask;
Acids, alcohols, geranol (urea) - carry the function of preservatives, and are not toxic;
Amodimethicone - is a polymer with an increased dose of amino acids in its composition, which provide a huge and powerful feed of the roots. Great results are achieved in the treatment of damaged, fragile and dull hair.
A variety of Professional Numero products
The line of Numero consists of several types of masks, each of which has its own properties:
Brelil numero with oats contains many proteins. The mask for split ends, which it will help to restore in the shortest possible time, is especially indispensable;
Brelil Karite Cream - includes two ingredients - shea butter and avocado. Mask with avocado facilitates combing and is suitable for different hair condition, contains many minerals, fatty acids, vitamins. Useful components are able to penetrate deeply into the hair structure, nourish and moisturize it. Shea butter is the most useful ingredient in cosmetology and contains palmitic, stearic and oleic acids, which contribute to the rejuvenation of the scalp and its acquisition of elasticity. These ingredients will protect your hair from such negative effects as coloring, perm, past illnesses, vitamin deficiency, and dull and brittle hair will become healthy in a short period of time;
Brelil numero with keratin and macassar oil is well suited for dyed and lifeless strands. If a woman does a perm and often uses tools for hot styling, then such a tool is indispensable. Keratin, being a natural protein, well restores the damaged area, penetrating into the hair follicles, nourishes the deeper layers of the strands, gives a healthy shine to the hairstyle.
Mask pasty consistency, so that it can be easily applied, spread into locks and then wash off without problems. Macassar oil is an innovative ingredient that includes ingredients such as ylang-ylang oil, corn, burdock and coconut. The mixture contains a huge amount of essential trace elements and vitamins.
Product benefits
Cosmetics can in a short time completely restore the hair, provide for her careful care and concern for health and beauty. Numero will give your strands radiance, volume, elasticity, lightness, softness and obedience, strengthen their roots, protect them from breakage. On the curls after washing the mask will remain a thin film, thanks to which the hair will be protected from the negative effects of external factors and from dirt. If you apply this cosmetic product regularly, you can quickly achieve a positive and high-quality effect. It will be visible after the first time.
The main advantages of the product are:
The result, which does not take long;
The uniqueness and benefits of the components of the composition - a complex effect on the curls and scalp;
Ease of use;
Frequent application of Professional Numero products to the hair does not affect the economical consumption, as the cosmetics have a thick consistency and large packaging. Therefore, it can be used for a long time;
An unmatched odor that stays for a long time after you wash off the composition;
Careful care and restoration of damaged hair structure;
Easy combing.
Application features
The scheme of application is quite simple. The composition is applied to clean, slightly dried curls and evenly distribute. If you do the application itself, just to maintain the beauty of the hair, you have three minutes, if the strands are damaged, hold for ten minutes. And if the trauma to the hair is strong, increase the procedure to half an hour or even to an hour.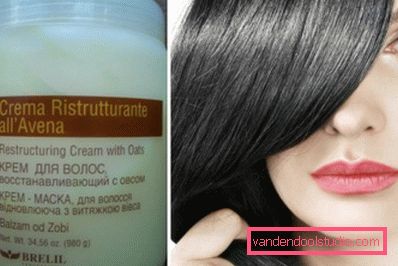 Give your tips more attention, put on them most of the funds than on the other part of the hair, because they are most visible damage. The substance is distributed on the scalp with a rubbing motion. After the specified time, the product is rinsed with warm water without the use of shampoo. It is not necessary to dry the strands, let them dry naturally. It is used 3-4 times a week and the result is simply amazing.
Mask cost and where to get it
As mentioned above, the standard volume of the bottle is 1000 ml, so it will be enough for a long period of time not only because of the large volume, but also due to its thick composition. For long strands need a tablespoon, not more. The average cost of a trillet numbering ranges from 1,000 to 1,200 rubles. The price depends on which component is contained in the composition. For example, with oats - 1200 rubles, with avocado - one and a half thousand rubles, with keratin - within 2000 thousand. You can also buy a jar with a volume of 300 ml at a price of 400 rubles. It may seem that it is too expensive, but this price is fully justified.
A hair mask can be bought at a professional cosmetics store, where you can always make sure that the product is safe and original by a quality certificate. It is also easy to order products from an online store from trusted vendors, or to buy at a store specializing in the sale of hair care products.
How to distinguish from fakes
Popular cosmetic products are often falsified, so you should know how the original differs from a fake. Pay attention to important information:
Numero has a transparent cover, under which there is a protective film;
It is sold in a jar, most often one liter;
The composition of the mask is not dense, but rather thick;
The product is yellow-greenish;
Very pleasant, well-remembered smell.
Almost all the real reviews about the cosmetics line Brelil extremely positive. Improving the condition of the hair occurs immediately after the first application. The product lasts at least 6 months. The best result can be achieved if you use shampoo in a complex with a mask from one line. They coincide in composition and complement each other's capabilities.
Video: Brelil Numero hair mask review