For owners of curly, fluffy, unruly, as well as too thin and brittle hair, devoid of volume, such a procedure as keratin straightening can be a salvation. There are a lot of products for this, one of the popular hair straightening compositions is Cadiveu Brasil Cacau.
What is keratin straightening?
To get started is to figure out what this miracle procedure is about. There are many compositions for its implementation, including such as the cadiveu brasil cacau kit. The main point is that the hair along the entire length is filled with keratin, this substance penetrates directly into its core, covers all scales, creases, voids. After fixing the composition, it becomes elastic and tightly elastic, which means it straightens the curls, making them more voluminous, smooth and shiny. The appearance of the hair is greatly improved.
After keratinizing, styling is facilitated, it does not suffer if it gets wet on the hair, excessive "fluffiness" disappears, hair becomes less porous. Many advertising leaflets, as well as masters of hairdressing salons claim that the procedure is also a healing one. But it is not so. Brazilian keratin straightening gives only an aesthetic effect. With proper execution and proper care, there will be no harm, but it is not worth waiting for the therapeutic effect.
What you need to know to decide on the procedure?
Of course, before you conduct quite serious manipulations with your curls, you should carefully understand the details. What should you know first?
As already mentioned, this procedure is not curative and serves only for an aesthetic effect, simplifying styling of curly, unruly, or thin hair.
Pre-worth studying what are the compositions for straightening. The Brazilian keratin straightening cadiveu brasil cacau is now very popular. But there are many others, it is best to carefully read the reviews on each option.
Hair straightened with keratin, need special care, which should not be neglected.
The effect of the procedure is temporary, up to 5 or 6 months, and, without proper care, keratin will be washed out much faster.
After washing out keratin, you should not immediately run the procedure, it is better to give the hair a rest and conduct a course of activities to strengthen and restore hair.
Hair after straightening with keratin, including cadiveu brasil cacau keratin, will still need additional styling with a hairdryer or iron, it will just be much easier. Moreover, although it is said that keratin itself provides thermal protection, it is better to use additional means for hot styling.
Brazilian keratin hair straightening does not exclude curling, dyeing, highlighting and other manipulations. Just everything has its own nuances, and hair coloring at home itself will become more problematic.
Keratin straightening is a salon procedure that requires a sufficient level of knowledge and skill from the master. Therefore, you should carefully choose a salon and a specialist. In case of violation of the technique, you may not get beautiful smooth strands, and the curls can be seriously affected.
At home, this event is still better not to hold, although it is possible, straightening kits can be easily purchased. Simply, it is very laborious and time consuming, while there is the likelihood of poor execution.
Brazilian hair straightening Cadiveu Brasil Cacau
Now you can often hear about a series of means for straightening Cadiveu Brasil Cacau. This is a set consisting of three compositions.
Shampoo preparing hair for filling keratin.
Directly composition containing keratin cadiveu brasil cacau.
Hair masks with keratin.
Reviews of Cadiveu Brasil Cacau, which can be found in large numbers on various forums, as well as its popularity, generally inspire confidence in the product. The manufacturer assures that it is possible both salon professional use of compositions, and home. Although it is preferable to trust the master. But the mask from the set can be an excellent home care for already straightened hair.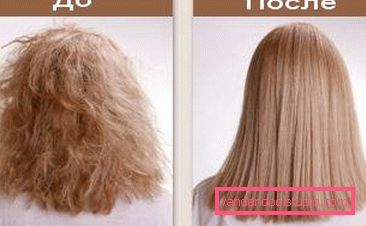 You can buy a set in the internet markets, as well as in professional stores for hairdressers, and sometimes in beauty salons. The price is naturally variable. On average, for a set of three products (each 1000 ml bottle) it is about thirteen thousand rubles. The cost of small jars, with a volume of 100 ml, an average of 4 thousand.
Instructions for straightening hair Cadiveu Brasil Cacau
If you do decide to straighten your hair yourself, then a sufficiently detailed instruction is attached to the kit. Here are the steps she describes:
Shampoo your hair many times, at least 3 times, then carefully comb it with a very fine comb to separate the hairs as much as possible.
After that, keratin itself should be applied on slightly dried strands, it should be applied abundantly, step by step onto small selected strands, then again carefully distribute the substance with a comb with frequent teeth. Soak the composition for about 30 minutes, then dry with cold air.
After complete drying with an iron (230 degrees), step by step straighten strand by strand, the thinner the strand, the better the straightening will be.
After temperature fixing, the hair is rinsed with cool water without shampoo.
The Brazilian cadiveu straightening is completed by applying a fixing mask for twenty minutes. After flushing it, you can enjoy the result.
Carefully weigh all the pros and cons, study the compositions, feedback about them, consult with the masters you trust, and then make a decision. Perhaps you even get ready and have the procedure done at home, many are doing fine. If everything is done correctly, you will not regret your decision, and with good care, the result will last for all six months, and after washing out keratin, the state of hair will not deteriorate.
Video: Step-by-step hair straightening with keratin Cadiveu Brasil Cacau