Hollywood curls - hairstyle reflects femininity, elegance, charm and charm. This luxurious hairstyle has been at the peak of popularity for more than a decade and is a classic, moreover it is a favorite hairstyle among celebrities on the red carpet.
Hollywood waves have their own characteristics, at first glance it may seem that it is just curls, but not all curls can be called true Hollywood curls.
What is the difference between Hollywood curls from simple curls?
The main difference between Hollywood curls from other styling is that it should be large, voluminous curls of the same size and thickness, neatly laid on one or both sides.
The hairstyle should remain lively and mobile, therefore, when creating Hollywood waves, pay special attention to styling products - they should not glue or weight the hair.
An important component of this installation is accuracy, hair must lie what is called hair to hair and have shine. Smooth soft lines are a necessary attribute of such styling.
Execution options
Laying in a Hollywood style can be done on both long and short hair. If in the first variant you can make as large curls as possible, then with hair of medium or short length it will have to be slightly reduced in order to get the desired result.
Before you start creating hairstyles decide on a parting, because after you make the curls it can no longer be changed, otherwise you will get the usual careless curls. Most often, parting is done on the side, so that the main part of the hair is on one side, but you can also choose a parting in the middle.
It is better to create a Hollywood hairstyle with the help of an ironing, thanks to him the hair will be smooth and shiny.
What do you need?
- hairbrush; - special styling products that do not make the hair heavier (spray, mousse or hair foam); - hair clips (if necessary) - iron or curling.
Preparatory stage
one. Hair should be washed in the usual way using shampoo and balm. Then dry a little with a towel.
2 Apply a little styling and thermal protection to damp hair.
3 Begin to dry your hair with a hair dryer and a round comb from the roots to the ends, this method of drying the hair will add extra volume to the finished hairstyle. At the same time, take not large strands and, as it were, lightly twist them onto a round brush. Attention! Hair must be completely dry, otherwise styling will not work and curls just fall apart.
How to make Hollywood curls yourself
At home, making Hollywood curls is not as difficult as it may seem at first glance.
one. Carefully comb your hair and part on one side.
2 You can start laying with the upper or lower strands, depending on how you prefer.
3 Scrunch the curls in one direction, then they will lie neatly in the finished hairstyle
four. If you make curls with an iron, then take a small strand, about 2 cm and grab it with the iron as close to the roots as possible, then turn the iron down so that the curl is wrapped around it and stretch along its length.
five. The resulting curl can be screwed on a finger and fastened with a clip, then the hairstyle will last longer.
6 If you are laying the curling iron, then starting from the roots, twist the strand on the curling spoon and then, without opening the curl, secure it with a clip.
7 When all the curls are ready to dissolve the hair and walk over it with a comb with rare teeth and put in the desired shape.
eight. Spray your hairspray to fix it.
Hollywood waves with the help of curling - step-by-step master class
Hollywood styling for medium hair
Make hair on one side
Waves for long hair
Hollywood curls - photo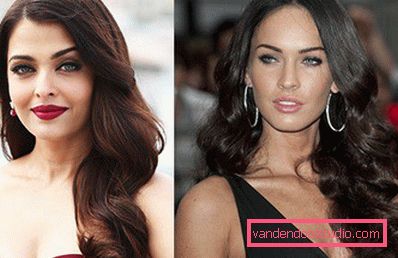 Video - how to make styling Hollywood curls
Now you know how to create luxurious Hollywood curls at home, be beautiful and irresistible!