Hairstyles with chignon are considered holiday, designed for special occasions. Initially, chignon is the name of the package, in which the hair was collected in a bun on the back of the head. Later, this word began to denote not the hairstyle itself, but a bunch of false hair for her. But despite this, the hairpiece can be made from its own tail. As well as on a special solemn occasion and on the evening exit, it can be used daily. Quite often, dancers collect curls in the tail at the back of the head and twist them into a bun. Such a bundle will look good in the evening hairstyle.
Hairstyles with the help of chignon can make a variety. Nowadays you can find a lot of overhead strands and beams on sale. Some will perfectly complement your casual look, make you more elegant and beautiful, others will be the final touch to the evening dress, emphasize your sensuality and add a touch of romance.
Types of chignons
Bang
This type of chignon is a short strand of hair, fastened together. He wears with special hairpins on the basis of his own bangs, perfect for complementing a strict style. The material of the strands can be both natural and artificial.
False natural or artificial strands
Long strands will increase the length of your own hair, short will give the missing volume. Strands can be screwed, or vice versa straightened, picking up what you need. They are attached to special clips, hairpins at the base of native hair. With such strands, wedding hairstyles with chignon will look perfect.
Tail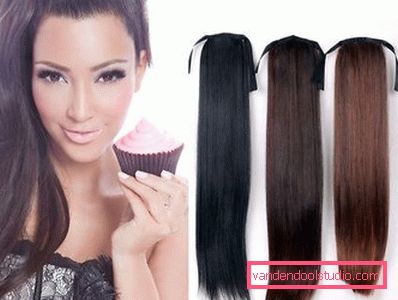 The classic version of a hairstyle with a chignon is a tail-like chignon, worn over your own tail. It is possible to make practically any stacking of the resulting mop. Such an option as winding spirals is perfect for a young bride or complement the image as an evening hairstyle with chignon.
Babette
Wedding hairstyles with chignon often require the use of babbety. This is another kind of false hair, pre-assembled in the desired structure. So it can be a bow or a flower in the form of hair. This accessory is attached directly to the finished installation. You can not comb it and carry out with him a variety of manipulations.
Laid on braid
Laid on braid is very common. Preference is given to her by women who want to have a chic pigtail. In the ready-made strands alone it is easy to weave their relatives. This variation is ideal for everyday use, but can also complement evening wear well.
Skullcap
The so-called chignon skullcap is more like a wig. He wears a native head of hair, creating a completely new look. It is easiest to use at home, because it does not create much difficulty to collect their curls and hide them under the skullcap.
Wedding hairstyles
Perhaps the most common option for wedding hairstyle is chignon. Nothing could be simpler than a collected bundle of hair at the back of the head, from which you can create masterpieces.
Tying the hair in a bun and putting on it overhead strands, you get an excellent material for designing hairstyles.
The resulting strands can be screwed in the form of small spirals or large curls, subsequently bringing them together or leave as a tail.
You can, on the contrary, straighten and leave ideally smooth strands, which can also be gathered together, representing a flower or a bow.
Pros of using overhead strands
The undoubted advantage of the use of overhead strands is their relatively inexpensive cost.
Having bought strands, you can make a masterpiece of a hairstyle with your own hands, which will be a noticeable saving of your money on stylists and hairdressers. On the Internet you can find a lot of videos, gradually showing the production of hair. When contacting a specialized salon, they will also show you step by step and tell you how to use the chignon yourself in the future.
The patch head of hair will not bring any discomfort or harm to you, on your own curls.
Very not demanding in the care and storage.
Can be completely any color, length and volume.
Care and storage
Like family, and false curls require careful maintenance. How you need to care for them, be sure to stipulate the instructions attached to each type of false hair. The scheme of care for natural strands is different from artificial.
Classic chignon and chignon of overhead strands require washing, scratching, and airing. Keep such hair should be so that they are not tangled and not damaged. The ideal option would be hanging them.
Chignons, bangs and babbety require neither washing nor combing. It is better to store them in boxes, to preserve the design.
After use and socks, overhead strands must be removed and put in the required storage space.
With false hair, you can not sleep, swim and do not want to visit the baths and saunas.
Video: how to properly attach the tail