Most women in this period only become more beautiful, but the beauty must be properly emphasized. The issue of hairstyle selection plays one of the most important roles in this issue. That correct haircut will be able to emphasize the youth and freshness of the face.
SEE ALSO:
Haircuts for women after 50 years
Haircut and hair type - what you need to know?
When deciding on a particular haircut, you should first consider hair type, because each hairstyle looks completely different on different hair. That is why it is very important when choosing a haircut to pay special attention to this parameter. Owners of normal, even or slightly curly hair can afford any haircut.
Owners greasy hair short or long haircuts in which the hair is not tight fit best. This feature helps to make hair lighter and hair more interesting.
For dry hair simple haircuts that do not require special styling will be optimal. Since frequent shampooing and hair styling will only harm your hair more.
Thin hair need volume. Therefore, short haircuts are best for their owners. Also, a fairly good volume can be created on medium-length hair, however, it is worth using multi-layered or torn haircuts. Pretty good on such hair looks and smooth bangs.
For owners thick hair Medium length haircuts that would look very impressive even without any special styling are best. If you have rather thick hair, then you can also experiment with bangs, the main thing with which you should not overdo it - with volume.
If nature rewarded you curly hair, then the choice of haircut for you will be as easy as possible. Women with such hair can make themselves any haircut, however, when choosing your favorite model, you should always take into account the direction of hair growth.
How to choose a haircut for a woman after 40
Proper selection of haircuts at this age is very important because it not only helps to emphasize the youthful face, but to hide flaws. Direct nose is very easy to hide with the help of thick bangs, while snub-nosed or wide looks good with combed hair. For owners of persons with small features curls are well suited.
The special charm of a short neck can give a triangular edging. Sticking ears can be hidden with hair. Low women should not choose a hairstyle in the form of curls, as they visually increase the volume of the head.
Choose the length of the haircut
Every year a woman should try new images that can emphasize her best features in one or another period of life. Haircut must necessarily be selected based on the type of appearance. Depending on the type of face and hair, women have different haircuts:
Haircuts for short hair
These hairstyles combine the two necessary features for women after 40 - beauty and sexuality. Their main advantage is ease of installation. For styling such hairstyles hairdressers are advised to use varnish. Owners of curly hair should not do such hairstyles.
Haircuts for medium hairThey are considered the most suitable for women who have stepped over 40. Hair of such length looks more healthy and well-groomed, and there are many options for haircuts to change the image from time to time.
Long haircuts
Most women think that long hair is suitable only for young girls. However, this does not mean that absolutely all women should refuse long hair. These hairstyles are not suitable for everyone. The main thing to consider if you want to grow long hair after 40 is the type of hair. If you have healthy, thick hair that adorn you, then you can safely try this hairstyle.
For women after 40 will suit the following haircuts
Haircut bob after 40
Bob - the most simple and optimal haircut for women of this age. It does not need special care, so it will take not too much time to pack it. Most stylists say that this hairstyle helps to correct the shape of the face. In addition, this hairstyle has a rejuvenating effect. See our detailed article about bob haircut.
Bob edging
This hairstyle helps to rejuvenate the whole appearance. The fringe visually closes such a problem area as the forehead. Most modern celebrities at this age prefer this particular hairstyle.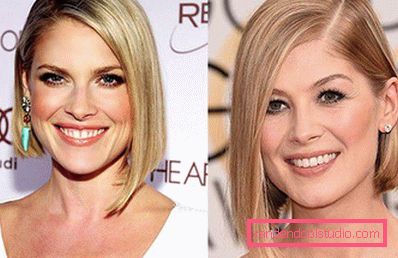 Bulk Multilayer Haircuts
Ideal for fine hair, able to give the hair a visual volume. The technology of a hairstyle is such that it does not require complicated styling, and slightly disheveled hair will be very helpful. This also includes ragged haircuts.
Grooming for women after 40
A truly universal haircut for any age and is indispensable for mature women, as it is capable "throw off" you are a couple of years. Caret is well suited for owners of an oval face. She frames it and makes it visually somewhat younger. However, you should definitely take into account that this hairstyle is not suitable for owners of curly hair.
Long side strands
This hairstyle is suitable for women after forty, who have a round face type. It visually lengthens the face and tailor its shortcomings. In addition, this haircut will help to give a person freshness and youth. However, this hairstyle is not suitable for owners of rare hair, as thick hair is needed to create such a hairstyle.
Haircut cascade
This hairstyle is perfect for women over forty. It helps visually rejuvenate the face and make it more open. However, when choosing such a hairstyle, it is necessary to take into account that the strands should be of different lengths. This will create a multi-layered effect.
Long caret
This length is very well suited for women after 40. Hair is not too long and not very short. The main advantage of this hairstyle is the variety of styling. You can experiment with styling depending on your mood.
Sloppy curls
This hairstyle has become very popular among women after 40 years. In order to create such a hairstyle, the length of the hair must be medium. If the hair is curly, then the styling is not needed; it is enough to model several strands with foam or varnish. If the hair is straight, then strands of different sizes need to be screwed onto the curling iron and fixed with varnish. This is one of the easiest ways to style.
Should I change hair color
Despite the fact that the gray is considered to be quite fashionable, she is unlikely to be able to decorate a woman. Therefore, it is best to return to their natural hair color. Only one haircut is combined with gray hair - bob. She always looked pretty good on blond hair, however, under this condition she could hardly rejuvenate the haircut. It is necessary to refrain from dyeing hair in black or red color, as they visually age.
Haircuts for women after 40 - photo
SEE ALSO:
Haircuts for women after 50 years
Summing up, we can say that in the first place a haircut for a woman after forty is worth choosing very carefully. After all, it depends on the haircut how your face will look. Properly chosen haircut helps to rejuvenate the face and give it a freshness. In order to choose the right haircut should take into account the type of hair and face type. In addition, a properly chosen haircut helps to hide minor flaws on the face and make you a real beauty queen.