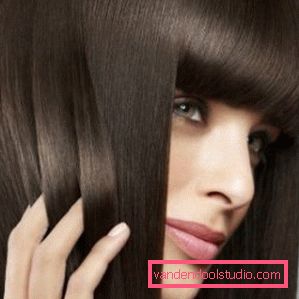 Having hair like a shampoo ad is definitely a dream for all girls. But how to implement it?
Shine
Hair of the same length looks more brilliant, since the light goes on and is reflected from them evenly. If shearing layers, you need to make sure that the tips do not split. Choose a shampoo for your hair type. In addition, shampoo with pearl or metallic reflux contains light-reflecting particles, which, in turn, allow the hair to overflow.
Smoothness
When using a special ironing hair becomes like pure silk, both to the touch and externally. In addition to the ironing, there are special smoothing agents for styling: they close the scales, align the hair structure, and in addition, nourish the hair. For thin straight hair, it is better to use a serum or spray. For tight curls, oil-based products are suitable: they envelop the hair, thereby making it smooth.
Volume
To make the hair look more voluminous, you need to spray wet hair with a spray for the volume, retreating from the roots, and dry, lifting each strand with a round large brush, while directing the dryer from the bottom. If the hair is thin and difficult to style, then it is necessary to apply a volume mousse with a fixing effect on it and wind several strands on the top of the curler.
Purity
Applying too much gel or wax to your hair will make the hair greasy. When styling wet hair, it is important to use as much as necessary. For starters - about a coin. If this is not enough, then you need to add a little bit.
In this case, the funds are applied from the middle of the hair to their tips, while you need to avoid the roots, so that the hair stays clean longer.
For dry hair, an even smaller amount of styling products is required to avoid "sticky" effect.
Colour
Evenly dyed hair, as a rule, look flat. For hair color to come alive, stylists recommend coloring. And to add brightness and instantly refresh hair color, use tinted gels and shampoos.
Motion
All styling and hair care products should be light, without silicone, so as not to glue or weight them. When laying using a circular brush, slightly twist the ends of the strands outward - this will give the effect of movement with any turn of the head. Dry hair with a diffuse nozzle is suitable for curly hair - it will divide the curls into small strands and allow them to move.