The correct hair color emphasizes the eyes, refreshes the face and makes minor skin imperfections invisible. A good way to choose a hair color is to know your color type of appearance. There are only 4 of them - winter, summer, autumn and spring. For each color type you can recommend your own color palette.
Color type winter
This is a fairly contrasting image. In carriers of this type of brown or green-brown eyes, light skin, dark hair, bright lips. Representatives of this color type are: Penelope Cruz, Angelina Jolie, Tina Kandelaki Oksana Fedorova.The perfect shade that fits this type. "Ebony", "black tulip", in general, sharp cold tones.
Color type summer
Light brown or ashy hair, gray, green, light blue eyes, skin olive. Summer, like winter is a cold color type.Among celebrities to this type belong - Sarah Jessica Parker, Maria Sharapova, Natalia Vodianova, Paris Hilton.Light summer type fit wheat shades of hair, dark reddish.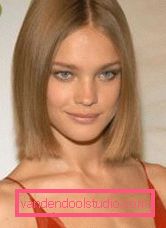 Color type spring
Light brown or blond hair, golden shades, often thin and curly. The eyes are gray, blue, the skin is light and thin, milky, and the tan sticks to it poorly. Famous bearers - Christina Aguilera, Anna Semenovich, Christina Arbakaite, Elena Korikova.Recommended hair shades - golden, honey, shade of a red tree. The perfect hairstyle - short haircut, soft waves, square.
Color type autumn
Hair gamma red, elastic, thick and often very curly, eyes bright green, cognac-brown, very bright, skin beige shades. By the fall include: Mila Yohovich, Julia Roberts, Nicole Kidman, Amalia Mordvinova, Mylene Farmer.Colors will suit you - red, dark brown, chestnut, mahogany, sangdal tree.