Little girls love to dress up, do all sorts of hairstyles, and just be princesses. Graduation in kindergarten is a special day for any girl, so every mother tries to please in all her daughter.
See also: Kids hairstyles with pigtails
Beautiful dress, fashionable shoes and of course the original hairstyle are the main attributes of a little lady. If choosing a dress usually doesn't cause any problems, as the shops have a wide range of dresses for every taste and color, then the situation with hair is a bit more complicated, because not everyone can weave intricate braids or construct complicated hairstyles.
Children's hairstyles for graduation kindergarten for girls in fact, it is not so difficult to do it, a little skill, patience, training and it will turn out no worse than that of a hairdresser.
Baby hairstyles for long hair
Children's hairstyles for long hair at home with their own hands do not so difficult, especially since the choice is very diverse. If nature has awarded your daughter a chic head of hair, of course, you want to show your hair in all its glory, so often mothers choose loose curls or interesting hairstyles with braids as a hairstyle.
Baby hairstyle for graduation with curls
Curls look very festive and beautiful, so it is perfect as a hairstyle for graduation in kindergarten.
Curls can be done in several ways without harm to hair:
1 way - flagella. It is better to do such curls in the evening, wash your hair and wait until it is slightly damp. Now divide the hair into several equal parts. Take one strand of hair and start to twist it into a bundle, then twist the bundle into a small bundle and secure it with an elastic band. Do the same with the rest of the strands. In the morning you are waiting for beautiful air curls!
2 way - pigtails. With this method, you can get light waves, in order for the night on the wet hair braid two French braids, this method will wavy hair straight from the roots.
2 way - on cloth or paper towels. Excellent and easy way with which our grandmothers made curls. Just take a small cloth of the same size, twist the strand on the cloth and tie it up, do it with all the hair and leave it for the night.
Other ways how you can make curls without harm to hair, see HERE.
Beautiful baby hairstyle bun or babette
This hairstyle will make your girl a real lady, her hair will be elegantly collected and at the same time this hairstyle is ideal for publishing.
To make a babette's hair, we need a special roller in order to create additional volume, or we can make a pile on the back of the head, and then put hair.
The bundle can be made on the basis of a donut, then it will turn out even and big. A bagel can be replaced with a regular sock, which cuts off the front part and twists it into the desired bagel.
So that the hairstyle has a completed solemn look, decorate it with a bow or a rim.
Baby hairstyle for graduation with flowers
Everything is natural and natural in fashion, so the flowers in the hairstyle look not only beautiful and fresh, but also very gentle. Therefore, they are perfect for decorating children's hair.
Flowers can be taken both natural and artificial. However, keep in mind that natural flowers may wither and lose their appearance, therefore it is better to use high-quality fabric flowers.
Flower dressing will blend perfectly with curls, and individual flowers can be woven into a braid.
Another option to decorate hair - wreath of flowers, here the main thing is not to overdo it. Also do not forget that the jewelry should be combined with the outfit.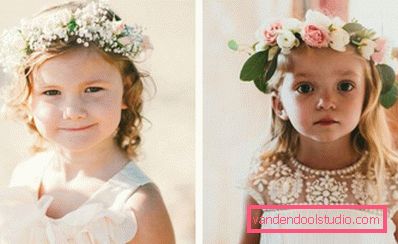 Children's hairstyle with braids for graduation in the garden
Probably, every mother has excellent braid weaving skills, showing imagination and learning beautiful weaving can make an excellent hairstyle.
For example, a braid waterfall is suitable for medium and long hair, and the combination of loose curls with a braid creates an excellent tandem. Hair tips can be screwed curling.
The reverse French braid looks festive and spectacular, especially if it is decorated with studs. French braid can be used as an element of hair or braid all the hair.
You can experiment with pigtails endlessly, so we offer you a selection of interesting hairstyles with braids.
Hairstyles with tiara or crown
Girls just love the crowns and tiaras, because this is an ornament of true princesses, I think your fashionista will be delighted with such a hairstyle. In order not to overload the image, choose a small decoration.
The tiara will go to the flowing hair, the hairstyles in the Greek style and the collected tufts on the back of the head.
Hairstyles for prom for girls for short hair
For short hair fit all sorts of hairstyles with elastics and barrettes. If the length of the hair allows, you can make light curls and put on a bezel adorned with stones or beads.
You can experiment with bangs and remove it with a beautiful hairpin.
Children's hairstyle - bow of hair
Unusual and fabulous hairstyle bow of hair suitable for graduation at the time. Make it simple enough, in this you can take a photo lesson.
The bow can be made from all the hair, placing it on the crown, or, for example, making a small bow on the back of the head, gathering the upper part of the hair, and twisting the remaining curls on the curling iron.
Baby hairstyles for graduation photo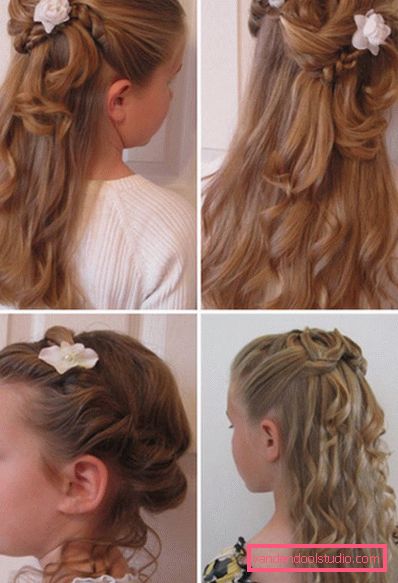 Baby hairstyles for graduation video
I hope you could find a suitable hairstyle :)