Fashion changes and depending on her girls not only choose clothes, shoes, makeup, but also hair. In recent years, women are increasingly choosing fashionable short haircuts, but long hair will never lose its relevance.
At all times and for all ages braids for long hair were considered a beautiful decoration of the female image, moreover, now the choice of various hairstyles with braids and weaves is simply huge.
Spit on long hair with your own hands can learn how to weave each, begin with more simple weaving, and finish with a variety of interesting braids.
Three-strand classic braid
Hairstyle that has passed through time is a classic braid of 3 strands, suitable for both long and medium hair. Our grandmothers and great-grandmothers braided their long thick hair into a braid, and the thicker it was, the more beautiful the woman was considered.
3-strand braiding
Today it is the fastest and easiest pigtail, which even a child can learn to weave.
The hair must be divided into three equal parts and then weave as shown in the diagram: The rightmost strand is shifted between the other two, then the leftmost strand is also moved between two adjacent ones. Continue weaving to the ends of the hair and secure with a rubber band.
At first glance it may seem that this braid is boring, but it is worth looking at the variety of hairstyles that can be made on the basis of this weaving, and for many it becomes a favorite.
Video lesson weaving braids from 3 strands
Spit of three strands - photo
French braid for long hair
French braid on long hair looks very impressive, besides, this weaving allows you to tightly collect hair, they will not fall out of the hair and disturb you. It can be woven straight or diagonally, you can braid two or more French braids on the head.
French braid weaving scheme
Weaving also begins with three strands as in the previous version, however, we begin the weaving from the top of the head and separate three small strands. We start weaving in the usual way, the only difference is that when we shift the extreme strand, each time we grab a small strand of loose hair to it.
Video instruction weaving French Spit
By adjusting the thickness of the strands, you can decide for yourself what kind of braid you will have, with small or large weaving.
Reverse french braid
This hairstyle is also called spit-dragon. As you already understood by the name, weaving occurs according to the same pattern as that of a conventional French braid, but at the same time, the extreme strands move not upward, but under the next strand, that is, from below.
Weaving scheme
There are also several variants of such a spit, you can braid two symmetric braids, or one zigzag. If you pull out small loops from each weaving of the finished braid, you will get a beautiful voluminous hairstyle for long hair, which is suitable even for an exit.
Weaving video
Back French braid - photo
Spit fish tail for long hair
Fish tail is a fairly simple weaving, which in fact is made of two strands. More precisely, the hair is divided into two parts, then a small strand is drawn from one part and transferred to the next part, we do the same on the other side, so we get an interesting weave that really remotely resembles a fish tail :)
Fishtail (spikelet) - weaving scheme
Such weaving looks especially advantageous on long hair, the braid is very unusual and interesting. You can also make a high tail on the top of your head and make a fish tail out of it - you'll have a fashionable and stylish hairstyle.
Weave Video Tutorial
Spit Falls - the perfect hairstyle for long hair
The combination of loose curls and beautiful weaving is the perfect hairstyle for girls who like to wear long hair in free form. At the same time framing hairstyle such a pigtail will give the image a finished and neat look.
Spit waterfall is perfect for a special occasion, a romantic walk or a trip to the theater.
Weaving can be seen in the diagram, it is quite simple, performed according to the type of weaving of the French braid. To get the effect of flowing hair, an additional strand that enters the braid does not twist, but remains free to hang.
Scheme of weaving braids waterfall
Weaving lesson video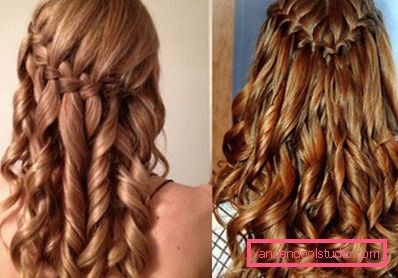 4-strand long hair
We have considered simple braids of 2 and 3 strands, now we can move on to more complex openwork weaving patterns. These include braids for long hair of 4 or more strands.
Four-strand braiding
When weaving a braid of 4 strands, the main thing is to get confused what is going on. When you put your hand, such a seemingly complicated braid can be completed in a few minutes.
The easiest way to learn how to whip this braid on video lessons.
Weave openwork braid of 5 strands for long hair
Weaving a spit of five strands requires a certain skill and experience, if you are already easy to perform the previous weaving, you can move on to more complex ones.
A braid of 5 strands is performed only on long thick hair, I advise you to carefully look at the scheme and video lesson to master this weaving technique.
Weaving scheme
Video lesson braids from 5 strands
Spit - mermaid tail - hairstyle for long-haired beauties
Very gentle and romantic braid, it looks voluminous and a bit careless. We take as a basis the weaving of the French braid, the only difference is that by grabbing another strand of loose hair, we do not pull it into the weave, but leave it in a weakened form.
The mermaid's braid can also be made in several variations, we look at the photos and videos.
Scythe shell
Another great hairstyle for long hair. It can be performed on the basis of any braid (classical, French, fishtail). Here the location of the pigtail plays an important role, it should start from one edge and then make a semicircle and twist like a shell.
Also, to create a shell you will need stealth or studs to secure it in the desired position.
Video lesson weaving braids shell
Braid around the head (crown)
Spectacular hairstyle, which is not suitable for everyone, if you have a beautiful oval face shape and pronounced features, you can safely take this braid on arms. Also this hairstyle is called a basket.
Weaving can be done in several ways, it can be a classic braid that rounds the head as a finished product, or it can be a circular weaving of a French braid.
If you choose the first option, then note that the hair must be very long, so that it is enough for full coverage of the head.
Video lessons
Combination of various braids with a beam
If you connect a braid and a beam that does not go out of fashion, you will get a stylish hairstyle for any occasion. The reverse French braid and a low beam from the side perfectly complement each other and the output is an interesting hairstyle that attracts the attention of others.
Pay attention to the fishtail braid, which smoothly frames the face and turns into a neat bundle, or you can completely make a bundle of braids, it will take quite a bit of time.
One of the hairstyle options
Spit with a tail for long hair
Another type of hairstyle that combines several elements, but now it's a tail, not a bun. With a tail the hairstyle is easier and more playful. How exactly to combine these two elements is up to you, a little imagination and you will get at least 7 different combinations.
Video lesson
Spit twist or "fake pigtail"
But in this embodiment, your braid weaving skills are not even needed, because this hairstyle is only conditionally considered a pigtail, so it is done with the help of elastic bands and tails. But the final version is very much like a braid, so this is another stylish option for decorating long hair.
How exactly to create a fake braid on your own look at the detailed video tutorial:
Spit of flagella
Another simple braid that can be performed in two techniques: in the technique of the French braid or from the tail. We divide the hair into two parts, each part is twisted into a braid in one direction, for example, clockwise. Then we begin to twist the strands with each other to make a spiral, but you need to twist in the opposite direction. That is, if you twist the strands in a clockwise direction, you must twist them counterclockwise. This allows the hairstyle to stick and not to bloom.
When you learn how to weave various braids, you can create a variety of hairstyles every day, the variations of which you can come up with infinitely many.