Hair shell from braid it is done quite simply, but it looks very elegant and romantic. With this hairstyle you can go, for example, on a date or in the theater. To make such a hairstyle with your own hands do not need special skills and knowledge of the techniques of weaving complex braids, it is enough to be able to weave a one-sided French braid, that is, additional strands are taken only from one side.
The hairstyle consists of two curved lace braids, similar to the French braids. Only hair in this style is added from one (top) side.What we need:
♥ comb; ♥ stealth or hairpin; ♥ hair spray.
Step by step instructions to perform hairstyles:
1. Comb your hair to the side. You can leave the bangs free, and you can weave it into your hair. Take a strand over the left ear and divide it into three parts. We begin to weave a one-sided French braid, seizing strands only from above. Weaving continue just above the level of the ear, right up to the nape.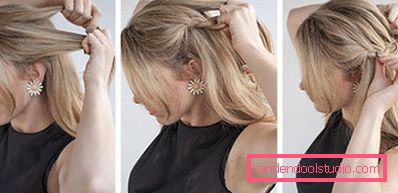 2. After our weaving has reached the back of the head, continue to weave it towards the right ear. Do not tighten the braid, it should be free enough so that later it would not be easier to make a shell. After the weaving has reached the right ear and you have taken the last strand, we begin to weave the usual braid downward. The end of the braid is fixed.
3. Now we begin to whip the second one-sided braid under the first. The principle of weaving is the same as that of the first braid, that is, the strands are woven only from above, with the bottom you have to use all the hair without leaving loose hair not woven into the braid. The lower braid should repeat the bend of the upper. When the strands are over, we finish the usual braid and fasten it in the same way.
4. Now it is left of our two braids to form "cockleshell". First, twist the lower braid in a circle, hide the tip of the braid and fasten it with a pin or invisible. Now we take the upper braid and twist it around the lower one, we also hide the tip and fix it. Our hairstyle is ready!
Hairstyle "shell" is ready. You can additionally decorate it with hairpins, flowers or large beads. It can serve as an ideal addition to the evening dress.
There are also other variations of a cockleshell hairstyle from braids, for example, you can braid one French diagonal braid and twist it into a shell, or, for example, braid a beautiful back braid;
Hairstyle "shell" from braid