How often we do not have enough time to look great every day. The same image begins to bother, and others no longer pay attention to your appearance. To be different every day, it's not at all necessary to get up a couple of hours earlier to make a fashionable hairstyle, sometimes 5 minutes is enough for that!
We offer you 10 simple everyday hairstyles that can be made by any girl in a matter of minutes. Thanks to a variety of hairstyles, you can always stay stylish and bright, and friends and colleagues will certainly appreciate your image.
1. Greek style hairstyle with elastic
For such a hairstyle, we need only a special elastic band on the head, you can make it yourself or buy it at any jewelry store. For such a hairstyle, smooth hair is not required, so you can slightly ruffle your hair with your hands and not even use a comb, then the hairstyle will be more voluminous, and slight negligence will only give lightness and playfulness.
2. Soft curls in 5 minutes!
Probably every girl believes that creating curls takes a lot of time, this is true, but we offer a great way with which you can save time and at the same time make light waves.
3. Hair Shell
This stylish and elegant hairstyle will never go out of style. Irreplaceable, it will be for girls and women who at work must comply with office style. The cockleshell hairstyle is perfect for a pencil skirt or trouser suit. Only hairpins will be needed to create a hairstyle, with the help of them you need to fix the hairstyle.
4. Volume bundle
The hairstyle bundle is universal and fits absolutely everything, there are a great many kinds of bundles, so even with such a hairstyle you can experiment and make interesting images. The fastest and most beautiful variant is the bundle made with a donut or a sock.
5. Dressing as an element of hair
This version of the hairstyle is more suitable for recreation in the summer, as such a hairstyle will not work, but for a walk or picnic it will be just right. The bandage can be a light shawl or solocha. The hairstyle is done in such a way that a part of the hair is twisted into a bandage, and a part remains loose.
6. Tail nodule
Rather simple and easy hairstyle, which is suitable for study and work, for its manufacture it will take a couple of minutes. The hair is simply tied in a normal knot twice, and the bottom is fixed with a thin elastic band, the hairstyle is ready!
7. Braid Bezel
If you have curly hair, then this hairstyle is simply indispensable for you, it is a simple and easy option to decorate your hair with loose hair. All you need is to braid two small braids and make a bezel of them, throwing it on the opposite side. The tips of braids are hidden in the hair and fixed invisible.
8. Openwork beam
Another beam option "hastily". This hairstyle can be done on the back of your head or on the side. The finished bun looks interesting and beautiful, and your friends will never guess that it took only 5 minutes to create a hairstyle. Do not forget to fix the finished hair style studs.
9. Reversed tail
Very simple and easy hairstyle, will suit you if you have no time at all, and the usual tail casts boredom.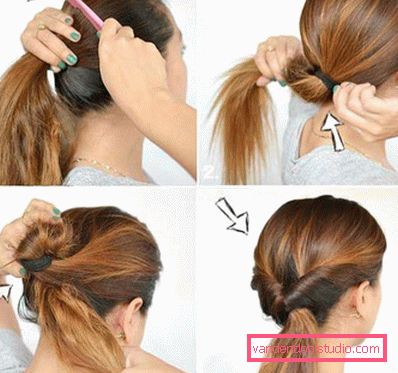 10. Hairstyle for long hair with pigtails
Long hair is very beautiful and without any hairstyles, but sometimes you want to decorate your hair with something interesting, in this case ordinary braids will come to the rescue, with the help of them you can experiment, creating different versions of hairstyles, one of them in the photo: