Tattoo thrash polka is a new unusual trend in the body art industry that challenges monotony, denies the commonplace and patterns imposed by society. "Trash" is translated from English as "garbage", "garbage". This bold and aggressive style has become a new-minded subculture that has found recognition among young people. Thrash polka tattoos can make even the most repulsive and terrible things attractive.
Features trash polka style and appearance history
The direction itself is considered a brutal "brother" of glamor, but in fact denies any restrictions. In the tattoo of trash polka, the usual things are intended to be "turned inside out" and specially brought to the point of absurdity. Usually images are made on the basis of red and black shades. "Waste" tattoos allow the younger generation to show individuality and stand out from the crowd, sometimes shocking people and even causing them confusion and disgust. Such images are the calling card of the rebels, protesting against the monotony, dullness and lack of originality.
But this does not mean that thrash polka tattoos are aimed specifically at creating negative or negative emotions. This trend has become a new kind of art, which has great potential and gives a huge energy. A person, especially in adolescence, always strives for something unique and unique. A certain irony over ordinary, traditional and legitimate things is embedded in thrash polka tattoo sketches. Thrash penetrated almost all walks of life. In fashion, it is determined by an extraordinary combination of clothes and accessories, in the film industry, by poor quality of editing, in painting, by the use of garbage as a material for paintings.
Tattoo thrash polka was invented by a German couple of graphic designers. They took as their basis the wearable images of the representatives of the American tank forces. This prompted the artists to experiment in which they made collages of clippings and press photos, then gradually drew their creations from above. As a result, the world saw the new scheme, which excited the global tattoo industry.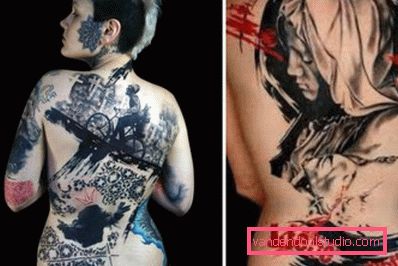 The phrase "tattoo thrash polka" contains the union of two concepts. With trash have already figured out. But the inclusion of the second part in the name of the name - the word "polka", is connected with the enthusiasm of the creators of gypsy and German folk motifs and the use of tattoos of folk stories in sketches. This direction involves the interweaving of realistic paintings with different geometric and graphic components. Tattoos are colorful, beautiful and unusual. Often the symbolism of death is the basis: flowers, coffins, crosses, blood.
Sketches trash polka tattoo
Tattoos thrash polka today are very loved and popular, especially among young people, due to the lack of frameworks and restrictions. This direction provides for both male and female tattoos. The main thing is that the person's mood should be oriented towards the manifestation of individuality and the desire to "swim against the current." Sketches of thrash polka tattoo amaze with its variety. They can be of any size, starting from miniature and ending with images on the whole body. A thrash polka tattoo done on the back can cause particularly conflicting feelings.
In tattoo trash polka, a peculiar banter appears over life manifestations, even over their lightest symbols. Bloody spots and smudges add to the images of pigeons, butterflies are drawn in scarlet. The image of a bleeding heart combined with newspaper clippings about the benefits of certain drugs is popular.
In the plots "garbage tattoos" there is a symbolism of time and short life. An unusual option is the image of an hourglass, where instead of granules there is blood.
For girls who love thrash, Mickey Mouse-Minnie's girlfriend's hat is characteristic, with her face replaced by a skull, and wearing a gas mask instead of a bow. Sometimes blood leaks around are added to the composition.
Also on the body of the girls can be found the plot of the tattoo, where a beauty with red hair turned her back to the mirror covered with blood. Her gaze is directed skyward, and crows are flying around her.
Guys have a big love for this style. They punish various images, ranging from crosses and skulls and ending with whole storylines. The most courageous and extraordinary personalities place on the hand weave patterns in the form of a sleeve in the style of trash polka. Everyone will be able to come up with a plot for a future tattoo or choose from a variety of ready-made sketches.
The direction of the tattoo trash polka is peculiar and causes various emotions. Almost all tattoos have a sense of hopelessness, so they are often chosen by representatives of subcultures, for example, Goths or Emo. Blood-black gamma attracts people with a depressive temper, or cheerful people with death related humor.
Not everyone decides to put such an image, so you need to think carefully, especially if you decide to make a tattoo for yourself at home. "Trash tattoos" difficult to perform, so it's best to try to do them yourself. It is better to turn to the master with a deep artistic vision and a high level of skill. He will be able, without deviating from the instructions, step by step to put a tattoo that will delight you, and force others around to constantly stop his views on it.
Video: Top 30 Best Tresh Polka Tattoos